​If you are a hiring manager looking for an executive-level candidate, how can you attract the most talented professionals who may or may not be actively seeking new job opportunities? One effective solution is to collaborate with an executive search firm. But what exactly is "Executive Search"? This essential guide provides information on executive search, including its types, fee structure, and how it benefits your business by securing top performers and highly sought-after candidates, while also saving you time and effort.
​
1. What is executive search?
1-1. Executive search definition
Executive search, also referred to as "headhunting" or "scouting," is a specialized recruitment process designed to attract highly qualified professionals at the mid to senior levels from outside your company. This approach aims to fill crucial positions, including business leaders and board members, with individuals who possess the skills and expertise necessary for your company's success. Unlike traditional recruitment, executive search actively seeks out passive candidates who are not actively seeking new roles, employing strategic methods to entice them with new opportunities. Rigorous screening and post-placement support ensure the right fit for the position.
The agency that provides this specialized recruitment service is called an "executive search firm," although many Japanese, including HR representatives, may still be more familiar with terms like "recruitment company" or "headhunting firm" when referring to such agencies.


1-2. What positions does executive search fill?
Executive search is a highly effective recruitment consultancy that specializes in finding ideal candidates for mid to senior management roles, including C-level* positions and industry-specific specialists. The primary focus of headhunting encompasses roles such as CXOs**, country managers, business unit heads, directors, senior managers, and managers, along with professionals possessing specialized skills in areas like legal, engineering, research & development, and more.
*The term "C-level" (also known as "C-suite") refers to executive-level managers within the organization, typically denoted by job titles beginning with the letter C, such as CEO, CFO, or COO.
**"CXO" represents "Chief x Officer," where the letter x represents various functions like Operating (O) or Marketing (M).
1-3. Executive search industry in Japan
Executive Search is a relatively new recruitment service that originated in the United States. Initially, it was primarily utilized in Japan to fill targeted positions for global companies. However, it has now gained traction across various industries and organizations as the most efficient method for efficient and successful placements. In recent years, this recruiting solution has become increasingly recognized among candidates, and many highly skilled professionals are now accustomed to being contacted by executive search firms.
1-4. Two types of headhunting
◆Registration (for staff to mid-level roles)
In the realm of headhunting services, the most commonly employed recruiting method in Japan is known as "Registration." This method involves job recruiting agencies matching their candidates with companies in search of new talent through online platforms like job portals.
The process begins with candidates applying for membership registration on the agency's website, where they provide details such as their position, career history, skills, and work experience. If a registered candidate appears to meet the qualifications for a role within your company, the agency will reach out to the candidate to arrange an interview with you.
However, it's important to note that the talent pool for this method is limited, especially when seeking mid-level professionals and above. As a result, this type of headhunting is most effective for identifying potential employees in staff to mid-level* roles.
*Mid-level refers to candidates with managerial experience
​◆
Search/Scout(for mid to senior-level roles)
On the other hand, "Search" or "Scout" is a proactive approach to identify potential hires who can fill the positions within your company. In executive search, recruiters directly reach out to candidates who appear to meet the hiring criteria, aiming to generate their interest in new opportunities. While registration is a passive form of recruiting, the search or scout process is active, with agencies actively seeking out qualified talents instead of solely relying on candidates applying for roles.
Recruiters leverage their industry networks to discover ideal profiles, including individuals who may not be actively seeking a career change. Their search extends to various sources such as industry journals, HR information on websites, referrals, social media platforms like LinkedIn, and their own databases, all in an effort to fulfill your company's needs. Once a qualified candidate is found, the headhunter will initiate contact to arrange a meeting between the candidate and your company for potential opportunities. For managerial roles, the talent pool is not as extensive as for staff-level positions, as senior employees often tend to remain in their current positions. Therefore, search or scout recruitment serves as the optimal approach to identify and attract mid to senior-level talents.
​
2. Hiring options and cost structure for executive search at Apex
2-1. Contingency search
A contingency search covers a broad range of searches, but it has one universal meaning: The fee is payable to Apex solely upon successfully introducing a candidate who becomes employed by your company. You will receive a single invoice, which will be sent on the candidate's first day of work. These searches may also be promoted simultaneously on our website, job boards, and social media platforms.
◆Pros and Cons for Contingency Search
Pros: No fee is charged until a candidate is successfully placed.
Cons: It can be a challenging task that involves handling numerous CVs received from multiple agencies.
◆Types of searches most suitable for contingency search:
​✓ Non-confidential positions where speed is key
✓ Primarily utilized for non-managerial roles ​
✓ Requires access to a wide market range and a substantial number of applicants
✓ Client has an internal HR or applicant screening team to evaluate candidates and oversee search firms
​
2-2. Retained Search
A retained search involves engaging Apex to handle the entire search process, including market mapping, candidate search, candidate selection, and onboarding assistance. Our approach typically involves a dedicated team of consultants, project managers, and researchers. The search follows a three-tiered goalpost framework, but can be customized to align with your specific requirements and needs. After each of these three goalposts is achieved, we will invoice you for approximately one-third of the agreed-upon rate. Retained search is the optimal choice for maximizing your business growth, as we search for candidates who align with the qualities you seek based on your mid to long-term business strategies, which are shared with us prior to the search.
◆Pros and cons for retained search
Pros: Provides market mapping with up-to-date information on competitors and more.
Cons: Difficult to pause the search until a candidate is successfully placed.
◆Types of searches most suitable for retained search:​
✓ Searches for C-level or high-level stakeholders within the organization (e.g., CEO, production site head, head of sales, country manager).
✓ Highly specialized searches in niche markets (e.g., medical director placed into a pharmaceutical company, targeting executives from direct competitors).
✓ Requires a high level of confidentiality (e.g., executive replacement, potential negative consequences if the search becomes public).
✓ Searches that necessitate partial or complete market mapping to make informed hiring decisions.
​
2-3. Comparison between contingency search and retained search

​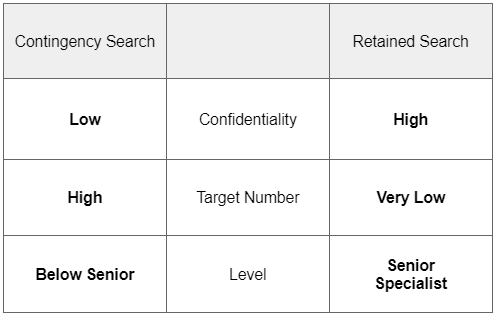 ​
3. Combination of contingency and retained searches: Exclusive contingency search
An exclusive contingency search combines many aspects of a retained search, but with a fee structure similar to a contingency search. The fee is payable to Apex only upon successfully placing a candidate who joins your company. You will receive a single invoice on the candidate's first day of employment. Similar to a retained search, the search will be exclusively conducted by Apex. The exclusivity period is determined at the beginning of the search agreement and can vary in duration. Typically, these searches are not advertised on our website, job boards, and social media, although there may be exceptions. This option allows you to evaluate multiple executive search firms before selecting the one you will engage.
◆Type of searches most ideal for exclusive contingency search:
✓ Emphasizes "Quality" over "Quantity" in the search process
✓ Suitable for management-level or higher roles that are newly introduced to the market, but the client prefers to maintain confidentiality
✓ Ideal for confidential searches or those in the initial planning stages
✓ Designed for searches that require an advanced level of partnership between the client and search firm. The search firm ensures rigorous candidate screening based on the highest quality standards and presents profiles of professionals who closely match the client's requirements.
​
4. Key Takeaways
◆What is executive search?
Executive search is a specialized recruitment service, also known as headhunting or scouting, provided by professional search firms that specialize in recruiting mid to senior-level professionals.
◆Why is executive search right for you?
Executive search enables the identification of top candidates who meet the criteria for mid to executive or specialist roles outside of the traditional job market. It involves reaching out to passive candidates and enticing them to consider a career move to your company.
◆Three options of executive search at Apex
・Contingency Search
・Retained Search
・Exclusive Contingency Search
◆Benefits of executive search
・Timely support in recruiting with a curated selection of ideal candidates.
・Maintaining confidentiality when hiring top talent from competitors.
・Access to potential candidates who may not be registered on job search or career sites.
・Improved efficiency in the recruiting process, saving you time and effort.
​
Now that you understand how executive search can contribute to your company's growth, contact us today to begin your search!